RTCU LX5 eco - Professional M2M/IIoT Gateway

The RTCU LX5 eco is a more economical version of the full-featured RTCU LX5 pro, with the differences summarized in the table below: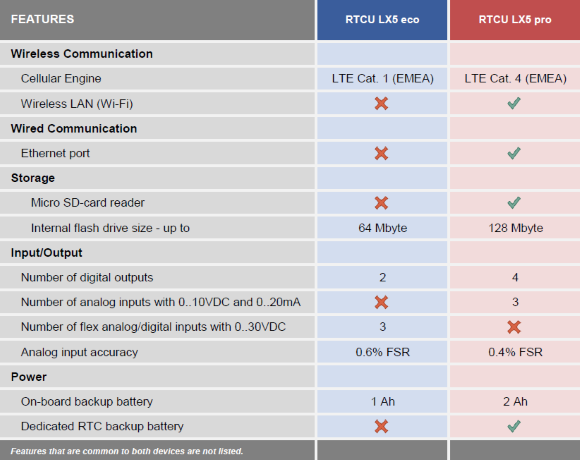 With the LX hardware architecture, the RTCU LX5 eco offers an unprecedented balance between price and performance and is at the same time positioned for a broad range of automotive and industrial Internet of Things applications.
The device is based on the NX32L (NX32 for Linux) architecture, which embraces many new technologies and at the same time maintains full backward compatibility, which ensures already implemented and tested NX32 applications can execute without changes.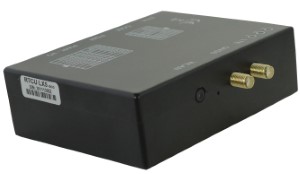 The RTCU LX5 eco is designed to meet the ever-increasing challenges on security, in that it offers full TLS on all major protocols and includes a hardened protected execution environment with dual-boot and automatic fallback and recovery.


The RTCU LX5 eco device is designed from the ground up for professional M2M / IIoT applications with strong onboard I/O capabilities and multiple communication interfaces such as LTE Cat.1, CAN bus, RS232, RS485, and 1-Wire.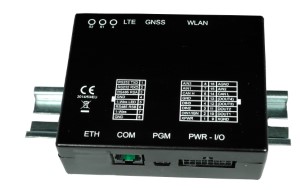 The RTCU LX5 eco is designed for the most advanced automotive applications as well as the most demanding industrial applications and is therefore available in two versions - one designed for DIN rail mounting. The onboard I/O system can be expanded almost indefinitely with Modbus I/O extension modules.

Technical Highlights:
Platform:
Based on the RTCU M2M Platform.
NX32L (NX32 for Linux) execution architecture.

RTCU IDE development tool.
Operates under a full and highly optimized Linux variant.
Open and extendable with the RTCU Platform SDK (under development).
LX hardware Core:
Cortex-A7 32-bit ARM processor operating at up to 1 GHz.

Cortex-M4 32-bit co-processor for advanced power-management.

Hardware floating-point and DSP instructions.

128 MByte RAM.

512 MByte NAND Flash (system boot, persistent memory, and file-systems).

Real-time clock.
Security:
Embedded firewall.

Port forward and NAT services.

TLS/SSL support with full certificate management.

TLS/SSL support for all major TCP protocols, such as SMTP, MQTT, and sockets.

Hardware assisted encryption/authentication.
Wireless Communication:
LTE Cat. 1 Multi-Band Cellular Engine for the EMEA region.

Internal SIM-card reader with support for eSIM.

Medium range ISM band RF transceiver with an on-board antenna.

Multi-constellation GNSS with GPS, GLONASS, and GALILEO.
Wired Communication:
Full CAN 2.0B controller with hardware filtering / multi-speed support.

1-Wire bus for accessories such as ID-button reader, temperature sensors, etc.

1 x RS232 channel.

1 x RS485 channel.
I/O Interfaces:
3 x digital inputs.

4 x high-power solid-state open-drain digital outputs.

3 x flex analog/digital inputs with 0..30 volt and 12 bit precision.

Expandable I/O with standard Modbus modules.
User Interaction:
Sensors:
3-axis Accelerometer with 16g scale.

Temperature sensor.
Audio:
Fully digitized audio system.

Transfer, store, and play audio.

Digitized cellular audio.

DTMF support for Interactive Voice Response applications.
Storage:
Internal flash drive with up to 64 MByte capacity.

Persistent memory and circular datalogger.
Power and Battery:
Operating voltage from 8 to 36 VDC.

On-board 1 Ah Li-Ion battery with intelligent charging.
Encapsulation:
Housed in a compact UL94 V0 grade PC fire-resistant plastic encapsulation.

DIN rail mounting option.
Regulatory Approvals:
Radio Equipment Directive, RED 2014/53/EU.
EMC Directive, 2014/30/EU.
RoHS Directive, 2011/65/EU.
For further information please refer to the data sheet and the technical manual below,
and the RTCU M2M Platform datasheet.



Product data sheet V1.00 (pdf)

Technical manual V1.01 (pdf)

Declaration of Conformity (DoC) (pdf)

RTCU Open Source Software Licenses (pdf)